Riding in the Rain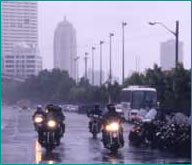 Yesterday, Friday, I decided to take nature on and see how comfortable I was riding in the rain. I know how to walk in the rain, and I thought I might know how to ride in the rain as well.
Rain is one of those stresses in hiking that can get under one's skin. A year ago, it was several days of foggy, rainy weather that brought my hike to an end after just under two weeks. I had planned to be out for more than a month, but the cold rain beat me to submission. Since then, I have done a lot more thinking about rain and have continued to aspire to what I wrote about in my book ("A Wildly Successful 200-Mile Hike"). I have tried to learn to be as comfortable in the woods during rainy weather as the animals that live there.
We are presently camped under a geographically stable low pressure system that has brought rain all day for the last 4 days and will probably keep rain in the forecast for several more days to come.
Instead of looking at the rain outside, I took it "under advisement" and planned a little trip in the rain.
The rain yesterday was not very hard - more like a steady sprinkle that continually drippped into all the puddles on the road. The temperature was about 44 F. On top of that, there was wind whipping around at about 25 mph.
I wore my full face helmet, a Land's End waterproof/windproof jacket that zips to under my chin, the pants from a set of Frog Toggs, a pair of goretex gaiters made by Outdoor Research, and leather boots treated with SnoSeal. I wore a pair of leather gloves treated with SnoSeal with wool liners and a heating pouch inside the wool liner on the back of my hand.
I set out to go to Chilicothe, OH. However events (a call for assistance by my teenage son) had me turn around at the 42 mile post. I was drinking a cup of coffee at a gas station when I learned I needed to email him a paper he had written the night before. So I turned around and drove back.
I stayed dry for the whole trip. I stayed reasonably warm (though it would have been nice to have a little heavier shirt under the coat.)
What I did not expect was how tiring the wind was. The road I was on was an E/W road and the wind was directly from the south, across unbroken farmland and hit me hard enough that I was leaning into it to stay on a straight path. Of course, it was not all that steady, especially when cars and trucks passed. Together with worries about the possibility of slipping on wet pavement, it was very tiring.
So, good news on the waterproofness, bad news on the idea of riding in cold rain all day. I think that by the time I had driven several hundred miles, it would have been getting very old!